Meet the Executive Director
---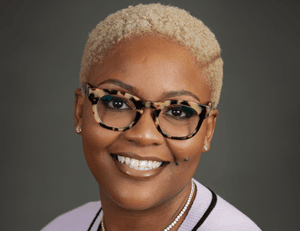 Ciara M. Huff
Ciara M. Huff is a Baltimore native whose passion for child welfare started from a very early age. As a young girl, she observed her mother, a devoted childcare provider, care for and nurture children in the community, which sparked her interest in child advocacy. Ms. Huff entered her academic career with the goal of advocating for at-risk youth. She holds a B.A. in Criminology & Criminal Justice from the University of Maryland, College Park, with a minor in Human Development, and an M.A. in Legal & Ethical Studies and M.S. in Negotiations & Conflict Management from the University of Baltimore.
Ms. Huff initially started as a volunteer advocate for CASA of Baltimore in 2014. As a volunteer, she supported children in five cases, in which one closed due to the child being placed in a safe and permanent home. This particular case involved a 16-year-old who was in a persistent vegetative state due to a suicide attempt. Despite being unable to communicate with the child, she effectively advocated for the child's best interests. Additionally, due to the conflict she experienced among the parties of this case, she developed and implemented Conflict Management and Effective Communication training for other CASA volunteers. Ms. Huff has always taken the initiative to advance the efforts and mission of CASA of Baltimore.
Prior to joining CASA, Ms. Huff served as Grants Administrator & Policy Analyst for the Office of the State's Attorney for Baltimore City (SAO), where she managed $5 million in grant funds for the city of Baltimore. In her role as Grants Administrator & Policy Analyst, she secured funds to hire additional victim/witness advocates for each division in the office & championed on behalf of SAO in Annapolis during the legislative session.
Ms. Huff believes that children are our most vulnerable population, especially those abused and neglected, and it is an obligation of those with the capacity and ability to make a difference, give children a voice, and help them reach their full potential. Every day, she takes the necessary actions to make a difference in a child's life.